Board
Karla Hartl
Eugene Gates
Kass Sunderji

Advisory Committee
Jindra Bartova
Michael Beckerman
Sylvie Bodorova
Timothy Cheek
Erik Entwistle
Jarmila Gabrielova
Eugene Gates
Judith Mabary
Odaline de le Martinez
Jan Smaczny
Milos Stedron


Mission
The Kapralova Society is a non-profit arts organization based in Toronto, Canada. Founded by Karla Hartl in 1998, the Society's mission is to promote the music of Czech composer Vitezslava Kapralova (1915-1940), and to build awareness of women's contributions to musical life. To this end, the Society awards a competition prize for the best interpretation of a Kapralova art song, publishes research on Kapralova and other women in music on its website and in its online journal, and supports projects that make available Kapralova's music in print, on record (first releases), and in performance (world premieres).

The Kapralova Society is an associate member of the IAWM.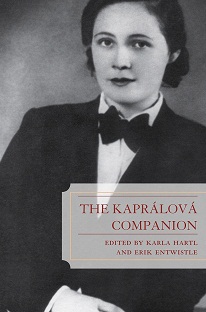 Annual Reports
2012
2011
2010
2009
2008
2007
2006
2005
2004
2003
2002
2001
2000
1999
1998

The Kapralova Society Journal
Volume 1
Volume 2
Volume 3
Volume 4
Volume 5
Volume 6
Volume 7
Volume 8
Volume 9
Volume 10
Volume 11




home







---
34 Beacham Crescent, Scarborough, Ontario, M1T 1N1 Canada. E-mail: society[at]kapralova[dot]org




Projects initiated and/or assisted by the Society
1998
The Kapralova Society Website
Kapralova: Portrait of a Composer (CD) - in partnership with Studio Matous

1999-2000
A Tribute to Kapralova
"A Tribute to Kapralova" archival recording - in partnership with York University
Women in Music
Czech Music in Exile

2001-2002
The Kapralova Edition - in partnership with Czech Radio
Radio Documentary on Kapralova - in partnership with Canadian Broadcasting Corporation
Women in Music

2003-2004
The Kapralova Society Newsletter
The Kapralova Edition - in partnership with Baerenreiter
Kapralova: Songs (CD) - in partnership with University of Michigan and Supraphon
Women in Music
Women in music: Hudbaby / Musicrones (CD 1)
Czech Music in Exile: Martinu (CD)

2005-2006
The Kapralova Society Journal
The Kapralova Edition - in partnership with Czech Radio and Amos Editio
Czech premiere of Prélude de Noël - in partnership with the Akademie Praha Chamber Orchestra
Women in Music
Czech Music in Exile (The Jezek Centenary Exhibit website) - in partnership with the Czech Museum of Music
2007-2008
The Kapralova Society Journal
World premiere of Ilena, op. 15 - in partnership with the Janacek Academy of Performing Arts
Kapralova: Piano | Violin and Piano (CD) - in partnership with Koch Records
Women in music: Women of Firsts (CD) - in partnership with the University of Louisville
Women in Music: Jezkova (CD)

2009-2010
The Kapralova Society Journal
The Kapralova Edition - in partnership with Amos Editio
US East Coast premiere of Partita, op. 20 - in partnership with the Chamber Orchestra of Boston
British premiere of Partita, op. 20 - in partnership with the Helios Chamber Orchestra
Revival performance of Piano Concerto, op.7 - in partnership with the Prague Symphony Orchestra
Kapralova and Martinu: Piano Music (CD)
Women in Music: Hudbaby / Musicrones (CD 2) - in partnership with Czech Radio (Radioservis)
Women in Music: Kosinova (CD)

2011-2012
The Kapralova Society Journal
The Kapralova Edition - in partnership with Amos Editio
The Kapralova Society Award for the best intepretation of a Kapralova art song - in partnership with the University of Wisconsin-Green Bay and the Theatre Lyrichoregra 20 Montréal
Canadian premiere of Partita - in partnership with the Sinfonia Toronto
Toronto premiere of String Quartet - in partnership with the Nocturnes in the City
Vitezslava Kapralova CD (Piano Concerto) - in partnership with Czech Radio (Radioservis)
The Kapralova Companion - a publication of Lexington Books (research assisted by the Society)
Kapral-Kapralova-Martinu: String Quartets (CD) - in partnership with Czech Radio (Radioservis)

2013-2014
The Kapralova Society Journal
The Kapralova Society Award for the best intepretation of a Kapralova art song - in partnership with the University of Wisconsin-Green Bay and the Theatre Lyrichoregra 20 Montréal