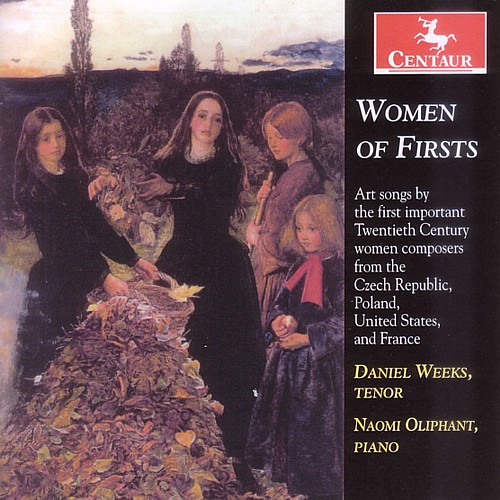 Centaur Records CRC 2966 (2009). Available from amazon.com and ArkivMusic.com.
Performed by Daniel Weeks (tenor) and Naomi Oliphant (pno.).
Recording Engineer: Christopher Jones
Editing and mastering: Tim Haertel
Liner notes: Naomi Oliphant
Producer: John LaBarbera
Recorded in April 2007 in the Margaret Comstock Concert Hall at the University of Louisville School of Music, Louisville, Kentucky.
A lyric tenor with an italianate timbre and a wide vocal range, Daniel Weeks has garnered praise from critics and audiences alike. Weeks has appeared with major symphonies across the United States, including the Houston Symphony, the Dallas Symphony, the Orchestra of St. Luke's at Carnegie Hall, and the Cincinnati Symphony. On the operatic stage, Weeks has performed repeatedly with the Cincinnati Opera, Kentucky Opera, Florentine Opera of Milwaukee, Austin Lyric Opera, and Nevada Opera. When not performing with orchestras or at opera houses, Daniel Weeks brings his expertise to the next generation of singers at the University of Louisville, where he is a member of the voice faculty since 1998.
Canadian born pianist Naomi Oliphant has earned an international reputation as a soloist and chamber musician in the U.S.A., Canada, Europe, and Japan. Her solo appearances include engagements with the Toronto Symphony Orchestra under Seiji Ozawa, the Louisville Orchestra, the Louisville Ballet, the Hamilton Philharmonic, and the Niagara Symphony. She has appeared numerous times on the Louisville Orchestra's New Dimensions Twentieth Century and International Soundcelebration series and has been aired on radio and television in Canada, the U.S.A., and Europe. In 1998, Dr. Oliphant was appointed Associate Dean of the University of Louisville School of Music.
---
Please note that the music recorded on this compact disc is in print. Click here for the complete discography of Kapralova's music.


Dr. Naomi Oliphant [is] the superb pianist on this release [and] Daniel Weeks sings with a great distinction. His voice is a brilliant instrument of considerable heft that rings out magnificently when the music requires it, but the voice retains all of its color even when shaded down to pianissimo. The three songs by Amy Beach are cut from a decidedly different musical fabric, and a purist might prefer that they had been discarded in favor of songs with the same impressionistic or neoclassical flavor as the others. To do so, however, would mean discarding the best singing on the disk as well as several moments that are as exciting as anything committed to disk in the last ten years. In particular, the final measures of "I send my heart to thee!" are overwhelmingly passionate, and Weeks unleashes a stunning high B-flat that is reason enough to purchase the CD. Of course, the most important reason to add this to your recording shelf is the opportunity it affords the listener to encounter the music of four gifted women composers. With its superb performances, this disk is an excellent step in the right direction.-- From a review by Gregory Berg for the Journal of Singing, vol. 66, no. 2 (November/December 2009).
The first three tracks on this recording feature the cycle Navzdy (Forever) by Vitezslava Kapralova. These evocative songs are typical of Kapralova's compositional style, displaying an ethereal and otherworldly quality through the use of interesting harmonies and unexpected modulations coupled with expansive vocal lines and frequent wide intervallic leaps in the melody. This set is beautifully performed by Weeks and Oliphant, with Weeks demonstrating exquisite phrasing and musicality, in addition to expertly negotiating the contrasting demands of parlando and bel canto singing. This is followed with Grazyna Bacewicz's song cycle, Trzy piesni do slow arabskich z X wieku (Three Songs to words from the tenth century Arab poetry), originally scored for tenor and orchestra in 1938, and later arranged for tenor and piano. This brief yet highly varied set certainly deserves its place in art song repertoire. "Mamidlo" (Mirage) was a lovely surprise for me, as it is accessible and tonal, yet with brief flashes of chromaticism and a melancholy sensation all at once. However, the highlight of this cycle is the second song, "Inna" (Other Woman). A mere 43 seconds in length, the song features the piano as the more prominent character, employing "a polytonal, ostinato pattern to invoke the nearby lover, while more lyrical and flowing material is used with expressive and tonal harmonies to illustrate the other woman." Although Amy Beach's cycle, Three Browning Songs, have been recorded by numerous artists, Weeks' and Oliphant's version is to be commended. The best part of this set is Weeks' high notes — they are glorious and plentiful. Although the tempo in the first song, "The Year's at the Spring," is a bit slow, Weeks and Oliphant make up for this in the second song, "Ah, Love, but a day!". This is their best performance of the entire CD. Oliphant plays the poignant piano part with utmost clarity, and Weeks' facility with his upper register is quite remarkable. His high notes are loud, resonant, and beautiful. The final cycle on the recording is Clairieres dans le Ciel, by Lili Boulanger. This cycle is also well-represented in numerous recordings, although it is performed by more sopranos despite the fact that it was composed for tenor, David Devries. Although many of the tempi are too fast in this recording, mention must be made of Par ce que j'ai souffert. The dramatic and intense suffering in this piece is expertly performed, and the duo makes this extremely difficult song sound incredibly easy, with seamless transitions between tempi, dynamic, expressive, and harmonic changes. The CD liner notes are thorough, well-written and insightful, offering information on each composer, describing compositional techniques, discussing historical context, and providing translations. Women of Firsts is a thoughtful and musical presentation of important female composers whose music deserves to be heard more often.-- Review by Michelle Latour for the Kapralova society Journal, vol. 9, no. 1 (Spring 2011).
The quality of both the music and the performances here is high, and this release will find a place in good collections of music by women.-- From a review by James Manheim for allmusic.com.
Il loro perfetto affiatamento, inoltre, crea una giusta atmosfera, che restituisce la forte intensita, legata a testi per la maggior parte nostalgici e struggenti, contribuendo anche ad evidenziare i diversi stili delle quattro compositrici, il che rende il cd, nel suo complesso, imperdibile per tutti gli appassionati di musica cameristica...-- From a review by Marco del Vaglio for AGIRE, June 2011.
Uno sguardo, ora, ai due interpreti, il tenore Daniel Weeks e la pianista Naomi Oliphant. Il primo evidenzia una voce molto bella ed espressiva, mentre la seconda risulta dotata di un tocco raffinato ed elegante. Insieme, grazie ad un perfetto affiatamento e ad una innata sensibilità, riescono a creare un' atmosfera che restituisce integralmente la forte intensità legata a testi sovente nostalgici e struggenti. In conclusione un cd di grande interesse, prodotto grazie agli sforzi dei due esecutori, ed al contributo finanziario congiunto dell'Università di Louisville e della Kapralova Society, che aggiunge un altro tassello alla conoscenza della musica al femminile.-- From a review by Marco del Vaglio for critica classica, June 2011.