ACKNOWLEDGEMENTS
This project would not have been possible without the dedicated efforts of Karla Hartl, Alena Jelenkova, Lukas Matousek, Sona Ryndova, Ivan Zacek, and Zdenek Zouhar.

Pre-mastering: Karel Soukenik
Recording engineers: Jindrich Michalik, Vaclav Roubal, Frantisek Slechticky, Vlastimil Zetka
Recording directors: Jiri Hudec, Lukas Matousek, Peter Reznicek
Dramaturgy: Lukas Matousek
Booklet text: Jindra Bartova
English translation: Ludmila Hatrick
Booklet Editor: Alena Jelenkova
Recorded in the Czech Radio (Studio Brno) in 1974, 1975, 1982, 1991, and at the Domovina Studio in October 1998.
We also gratefully acknowledge Milan Hon and Jiri Sopko, as well as the artists Jiri Kratochvil, Ivan Merka, Jiri Skovajsa, Bohumil Smejkal, Adolf Sykora, the Frantisek Jilek Estate, the Karel Krafka Estate, and the Vilem Pribyl Estate, for their contribution to the project.
We wish to thank Rudolf Kundera for his kind permission to publish his drawings of Vitezslava Kapralova on the disc and the booklet cover and Ludmila Hatrick for generously donating her English translation of the booklet text.

We gratefully acknowledge the financial support of the Czech Ministry of Culture, Czech Music Fund, The Leos Janacek Foundation, The Architects Club, Emil Prikryl, Rostislav Svacha, Karla Hartl, and Josef Kapral.

We also wish to acknowledge in-kind support of the Jaroslav Fragner Gallery.
Finally, we would like to thank the friends of Kapralova's music who helped us promote this compact disc: Rob Barnett, Benjamin G. Cohrs, Lubomir Fendrych, Patricia Goodson, Constanze Holze, David N. Lewis, Malcolm (Calum) MacDonald, Alexandra Pierce, Jan Smaczny, Gregory Terian, Marco del Vaglio, and Jiri Zahradka.
---
Please note that the music recorded on this compact disc is in print and can be purchased from its publishers.

Click here for complete discography of Kapralova's music.

Vitezslava Kapralova: Portrait of the Composer
---
Studio Matous MK 0049-2 011 (1998). TT: 75'14". This disc is available from amazon.com and cdmusic.cz.

---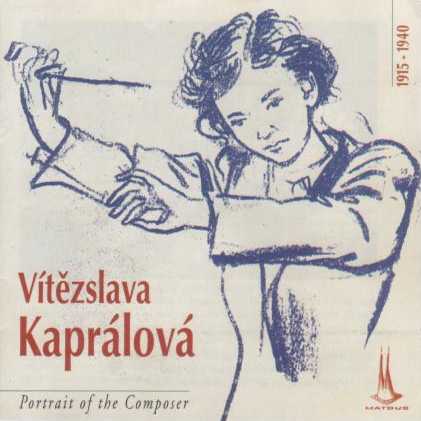 "This excellent and generously filled issue does a great deal to establish her credentials as a genuinely fascinating voice in inter-war Czech music..." BBC Music Magazine, June 1999.
" [A] moving testimony to a substantial creative personality who had already hit her stride before her career was so cruelly cut short." Tempo, October 2000.
Discoveries aplenty here ... Well worth the quest you will need to make if you want to find this treasurable CD... musicweb.uk, October 2003.
In her short 25 years, Czech composer Vitezslava Kapralova amassed an astonishingly original output that would be the envy of any composer three times her age..." All Music Guide, July 2005.
Great to get to know this composer.
Wicher for amazon.co.uk September 2014.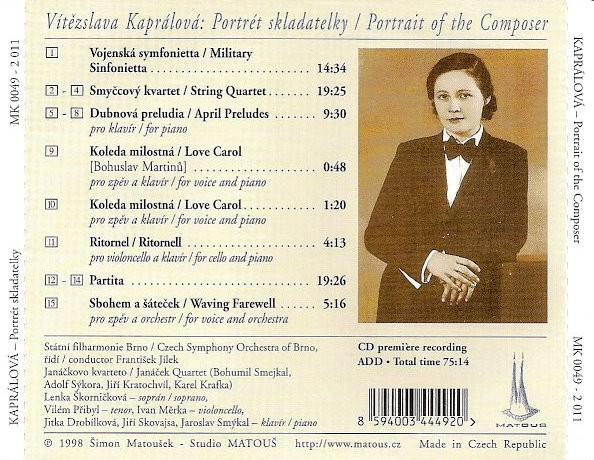 LISTEN TO SAMPLES. To hear the music, click on

---
Military Sinfonietta | The Brno Philharmonic, Frantisek Jilek. Listen to its opening

or download the entire work from MediaFire
String Quartet | Janacek Quartet

(1. Con brio) and

(3. Allegro con variazioni)
April Preludes | Jaroslav Smykal

(4. Vivo)
Partita for Piano and Strings | The Brno Philharmonic, Frantisek Jilek, Jiri Skovajsa.

(1. Allegro energico)