ACKNOWLEDGEMENTS
This project would not have been possible without the dedicated efforts of Dr. Timothy Cheek, the partnership of Supraphon, and the financial support of The University of Michigan Office of the Vice-President for Research, The University of Michigan School of Music, and The Kapralova Society.
We wish to thank the artists: Dana Buresova, Magda Caslavova, Timothy Cheek, and the members of The Herold Quartet: David Havelik, Jan Valta, and Petr Zdvihal.
We would also like to acknowledge the following individuals for their contribution to the project:
Producer: Petr Vit
Recording Director: Jaroslav Rybar
Sound Engineer: Stanislav Sykora
Sound Assistant: Jiri Hesoun
Booklet design: Jan Weber
Booklet text: Timothy Cheek
Translators: Ingeborg Baumgartner, Timothy Cheek, Emilia Esserova, Karla Hartl, Bohuslava Jelinkova, Anna Ohlidalova, and Nabila Ramdani

Recorded digitally at the Domovina Studio in Prague on July 13-15 and 17-20, 2003.
Please note that the music recorded on this compact disc is in print and can be purchased directly from its publisher.

---
Click here for the complete discography of Kapralova's music.
The Kapralova Society is a non-profit art organization based in Toronto, Canada. Founded in 1998, the society's mission is to promote interest in Kapralova and other women in music. For more information about our projects visit the Society's website.




Vitezslava Kapralova: Songs
---
Supraphon SU 3752-2 231 (2003). TT:70'13". Accompanied with a 73-page booklet containing texts and lyrics in English, German, French, and Czech. This disc is available in mp3 downloads from Amazon.com, Supraphon Online, and from iTunes.
---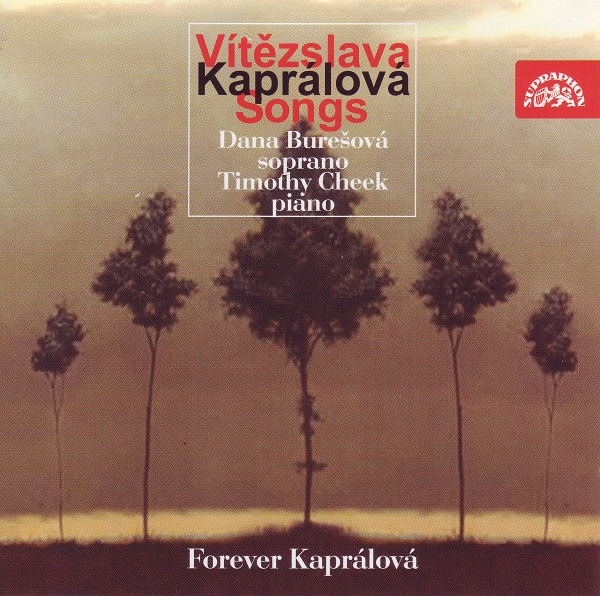 Une artiste d'exception...
Pierre Barbier, Diapason, Mai 2004
Mesmeric, dreamy and expressive.
Rob Barnett, Editor of MusicWeb, November 2003 (read the full review)
Kapralova est pour le lied tchèque ce que Duparc est pour la mélodie française. Une redécouverte capitale.
AbeilleMusique.com
Some of the most purely beautiful music I have heard in a long while.
Colin Clarke for MusicWeb.uk (read the full review)
One of the best CDs in the genre of 20th century art song repertoire recordings.
Laura Kafka for the IAWM Journal 2 (Fall 2004) (read the full review)
There are some real treasures here and for anyone interested in 20th-century Czech music, a fresh perspective on the post-Janacek era.
Jan Smaczny, BBC Music Magazine, March 2004 (read the review)
Kapralova's group of songs Forever would be a remarkable achievement for any composer, let alone one in her early twenties.
Barry Brenesal, Fanfare, January/February 2005 (read the review)
Both Burešová and Cheek display expertise in portraying the many intricate and complicated facets of this hauntingly beautiful vocal music, and their CD is a must-have for anyone interested in the music of Kaprálová.
Michelle Latour, Kapralova Society Journal, Spring 2011 (read the review)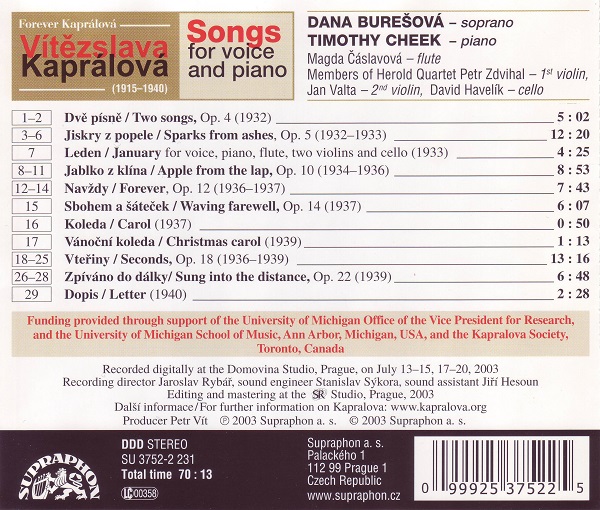 LISTEN TO SAMPLES. To hear the music, click on

---
Morning (from: Two Songs, op. 4)


January for voice and quintet


Lullaby (from: Apple from the Lap, op. 10)


With a White Kerchief He Waves (from: Seconds, op. 18)


Spring Song (from: Sung into the Distance, op. 22)