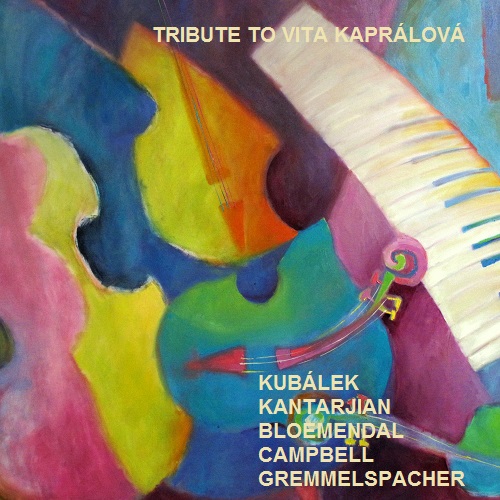 Kapralova Society KS-MP3-001 (2016). Listen on soundcloud.com
Performed by Antonin Kubalek (piano), Gerard Kantarjian (violin), Coenraad Bloemendal (violoncello), Dana Campbell (soprano) and Alex Gremmelspacher (piano).
Recording Director: Michael Coghlan
Sound Engineer: Robb Wright
Liner notes: Karla Hartl
Cover art: Pavla Quinn
Recorded on November 18, 2000 at the Humbercrest United Church in Toronto
Antonin Kubalek was one of the finest pianists of his generation. He studied under Frantisek Maxian at the Prague Academy of Music, won several prestigious awards in Eastern Europe and an Honors Diploma from the Enesco International Music Festival in Bucharest. In the 1960s he was a professor at the Prague Conservatory and recorded extensively for Supraphon. In 1968 he emigrated to Canada where he continued his career performing frequently with the Toronto Symphony and other orchestras. He made numerous recordings for the Dorian label and was featured in many concert broadcasts of Canadian Broadcasting Corporation. He had the distinction of being the only artist to have made a recording produced by Glenn Gould (the second Piano sonata by Korngold).
Gerard Kantarjian's career as a concertmaster, soloist and chamber musician has taken him to the world's major concert stages. Following his graduation from the Curtis Institute, Mr. Kantarjian was awarded the distinction of a "laureate" at the Queen Elizabeth International Competition in Brussels, a prize which led to recitals and performances with numerous European orchestras. He was chosen by Leopold Stokowski as the first concertmaster of the American Symphony, and subsequently was the concertmaster with the Toronto Symphony under Seiji Ozawa. He has also performed for many seasons with the Casals Festival Orchestra. As soloist, he appeared with the symphony orchestras of Detroit, Philadelphia and San Francisco, among others.
Coenraad Bloemendal was born in Amsterdam and studied at the Amsterdam Conservatory with Holland's leading cellist Carel van Leeuwen Boomkamp. After graduating, he came to the United States to complete his studies with Janos Starker and William Primrose at Indiana University. In 1971, Mr. Bloemendal moved to Canada, joining the Camerata Canada chamber ensemble. As a soloist, he played the Beethoven Triple, and the Dvorak, Schumann and Haydn cello concerti. His performances with Glenn Gould on CBC Television's "Music in Our Time" led to other collaborations with the pianist, and was released on record by Sony. The two solo albums, "Duos for Cello and Bass" with the double bass virtuoso Joel Quarrington on the Crystal label, and "The Cantorial Voice of the 'Cello" on the Dorian label, have been critically acclaimed. In 1986 Mr. Bloemendal founded the Rembrandt Trio with violinist Gerard Kantarjian and pianist Valerie Tryon. They have recorded extensively on the Dorian label.
Canadian soprano Dana Campbell is a graduate of Wilfrid Laurier University and alumnus of the Royal Conservatory of Music Glenn Gould Professional School. Upon her winning the Wilfrid Laurier University Concerto Competition, she was selected by Maestro Chosei Komatsu to perform with his Kitchener-Waterloo Symphony Orchestra. Since then she has performed with Fabio Mastrangelo and his Virtuosi di Toronto, appeared as a soloist with Jurgen Petrenko's Toronto Classical Singers and the Talisker Players, and toured central Italy as a soloist with Toronto's Palestrina Chamber Chorus. She made her debut with Toronto Operetta Theatre, singing the title role in the Canadian premiere of Gonzalo Roig's zarzuela Cecilia Valdes, and performed with Chicago's Millennium Chamber Players. Her operatic roles include Mimi, Alison, Donna Elvira, Countess Almaviva, Sandman/Dewfairy and Marguerite. Most recently Ms. Campbell appeared in concert with the AIMS Festival Orchestra in Graz, Austria, under the baton of Edoardo Muller.
Axel Gremmelspacher studied at conservatories in Freiburg, Boston, and Hanover with Robert Levin, Raymond Santisi, James Avery, David Wilde, as well as with John Perry in Toronto as a Fellow of the Rotary Foundation and the Canadian government. He holds an Artist Diploma (Toronto, 2001) and Soloist Diploma (Freiburg, 2003). As a duo with Julia Rebekka Adler, he was a fellow of the German Music Competition and a member of the national selection for "Concerts for Young Artists" of the German Music Council. His concerts have been broadcasted by Deutschlandradio, Bayerischer Rundfunk, Norddeutscher Rundfunk, Südwestrundfunk, Radio Bremen, and Hessisches Radio. In winter 2010/11 he was appointed professor of piano at the University of Music and Performing Arts in Frankfurt.
---
Please note that the music on this recording is in print. Click here for the complete discography of Kapralova's music.
VARIATIONS SUR LE CARILLON
de l'Eglise Saint - Etienne - du - Mont, op.16 (1938)

THEME and Variation 1 - Poco Vivo
Variation 2 - Allegretto
Variation 3 - Lento ma non troppo
Variation 4 - Quasi etude vivo
Variation 5 - Choral
Variation 6 - Allegro e coda

ANTONIN KUBALEK - piano

LEGEND, op. 3/1 (1932)
ELEGY (1939)
BURLESQUE, op. 3/2 (1932)
for violin and piano

GERARD KANTARJIAN - violin
ANTONIN KUBALEK - piano

APRIL PRELUDES, op. 13 (1937)
Allegro ma non troppo
Andante
Andante semplice
Vivo

ANTONIN KUBALEK - piano

RITOURNELLE, op. 25 (1940)
pour violoncelle et piano

COENRAAD BLOEMENDAL - violoncello
ANTONIN KUBALEK - piano

JABLKO S KLINA / APPLE FROM THE LAP, op. 10 (1934-1936)
Song cycle on texts by Jaroslav Seifert


Pisen na vrbovou pistalku / Song for a Willow Whistle (1934)
Ukolebavka / Lullaby (1936)
Bezvetri / The Calm (1936)
Jarni pout / Spring Fair (1936)

DANA CAMPBELL - soprano
AXEL GREMMELSPACHER - piano

TT: 46:45


Liner notes

Kapralova composed Variations sur le Carillon de l'Eglise St. Etienne du Mont, op. 16, for piano in February 1938, shortly after her 23rd birthday. The work is considered her finest for solo piano and was admired by Bohuslav Martinu who helped to have it published by La Sirene Editions Musicales in Paris the same year. The work was given its first performance by Professor Ludvik Kundera at a concert of the Brno Conservatory on 27.3.1938.

Kapralova was only seventeen when she composed Legend, op. 3/1, for violin and piano. Originally titled Mood, the work was finished in spring 1932 and premiered by Jan Lorenc (violin) and Frantisek Jilek (pno.) at a concert of the Brno Conservatory on 9.5.1933.

Elegy for violin and piano, originally titled In Memoriam to mourn the death of Czech writer Karel Capek, was composed in Paris on 2.2.1939. It was first performed by Jan Sedivka (violin) and the 24-year-old composer herself (pno.) on 28.2.1939 in Paris.

Kapralova dedicated Burlesque, op. 3/2 for violin and piano (from 1932) to Dr. Magda Kuhnova, a friend of Kapralova's family. The work was premiered by Jan Lorenc and Frantisek Jilek in Brno on 9.5.1933, and published the same year by Brno publisher Old. Pazdirek.

Kapralova composed April Preludes, op. 13, for piano in spring 1937, at the time she was finishing her studies at the Prague Conservatory. A year later, the work was published by HMUB in Prague. Kapralova dedicated the four preludes to Rudolf Firkusny hoping that he would give it its premiere. The preludes failed to attract Firkusny's attention at first, so it was Dana Setkova who premiered the work, at a concert of Pritomnost Society in Prague on 5.10.1937. Firkusny did perform the work later in Paris, on 28.1.1940, at a concert of La Societe de la Musique Contemporaine. Programmed along chamber works by Stravinsky and Roussel, the composition was received enthusiastically by the audience of musicians and composers, and also won critical acclaim. The success of the work prompted Firkusny to commission another piano work from Kapralova, her Two Dances for Piano, op. 23.

Ritournelle, op. 25, for violoncello and piano (from the cycle Deux ritournelles, op. 25). The last and arguably the best chamber work of Kapralova was finished in Paris on 11.5.1940, about a month before her untimely passing at the age of 25. Of the two pieces only one exists thanks to the pianist Hermann Grab who brought a copy to the United States. Originally both pieces were to be given their premiere by Hermann Grab and Karel Neumann in Paris on 29.5.1940, but the concert was cancelled and the work was premiered by Karel Neumann and Vilem Tausky a year later in London.

Apple from the Lap, op. 10 is a cycle of four songs on texts by Jaroslav Seifert. Kapralova composed the songs in 1936 when she was twenty-one, and dedicated them to their first interpreter, professor Masa Fleisherova, who performed them with Ludvik Kundera in Prague on 17.12.1936, at a concert organized by Pritomnost Society. One of the songs, Lullaby, was published in 1936 in the women's magazine Eva. The complete cycle was published a year later by HMUB in Prague.