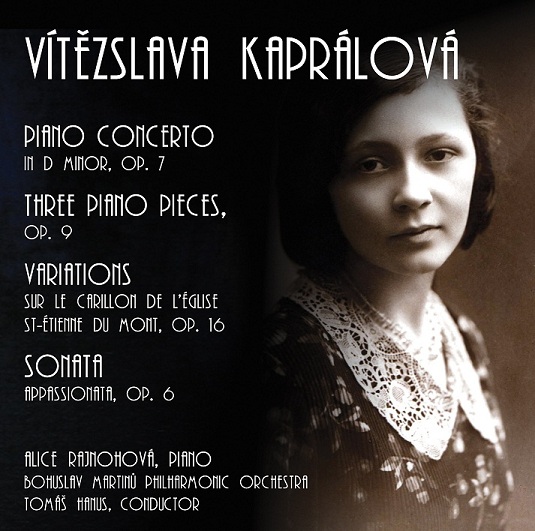 Czech Radio (Radioservis) CRO577-2 (2011). CD is available from cdmusic.cz and digital audio (MP3, FLAC) from radioteka.cz.
Performed by Alice Rajnohova (pno.), Bohuslav Martinu Philharmonic Orchestra conducted by Tomas Hanus.
Recording Directors: Frantisek Mixa, Tomas Reznicek
Sound Engineers: Ivo Roubal, Lukas Dolejsi
Booklet texts: Alice Rajnohova, Jan Hlavac
Cover Design: Daniela Zichova
Recorded live at the House of Art in Zlin in November 2010 and at the Congress Center Zlin in June 2011. Released: November 20, 2011.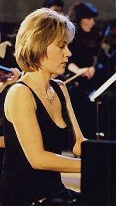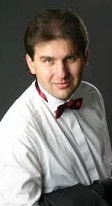 Alice Rajnohova's concert career includes appearances as a soloist with both chamber ensembles and large orchestras. She regularly collaborates with the Czech Radio, for which she has made numerous recordings, particularly of the twentieth-century Czech music. Rajnohova combines her artistic career with teaching piano at the conservatories in Brno and Olomouc and at the Janacek Academy of Performing Arts in Brno, where she did her postgraduate studies. The subject of her DMA dissertation was the piano oeuvre of Vitezslava Kapralova.

Tomas Hanus works regularly with the best Czech orchestras, including the Czech Philharmonic and the Prague Symphony. He has made guest appearances with the Nagoya Philharmonic, the Deutsches Symphonieorchester Berlin, the Dresdner Philharmonie, the orchestra of Stuttgart Opera, and the BBC Symphony. In autumn 2016, he will take up the position of new Music Director of the Welsh National Opera.

Bohuslav Martinu Philharmonic Orchestra was formed in 1946 (it received its current name, the Bohuslav Martinu Philharmonic, in 1989). The orchestra's artistic profile was shaped by a succession of excellent chief conductors, working alongside an impressive roster of both permanent and guest conductors, including Richard Tynsky, Rostislav Haliska, Petr Altrichter, Tomas Hanus, and many others.

Please note that the music recorded on this compact disc is in print. Click here for the complete discography of Kapralova's music.

Clanek o CD v Tydeniku Rozhlas
Klavirni koncert hraje Alice Rajnohova s mimoradnym elanem a pochopenim, takze pri jeji hre nelze nepomyslet na dvacetiletou skladatelku, plnou energie a chuti do zivota. Prvni veta hyri takovou spoustou napadu – kompozicnich i interpretacnich – a deje se v ni toho tolik, az mame dojem, ze se jedna o filmovou hudbu. Volna veta prekvapi svou strucnosti a potemnelosti, ktera tvori skvely kontrast k hrave a pritom rytmicky strhujici vete finalni. Zlinska Filharmonie B. Martinu rizena Tomasem Hanusem hraje s velkym nasazenim a se stejnym mladistvym elanem jako solistka.–—Veroslav Nemec, Harmonie, February 2012.

CD je dukazem toho, jak dilo Kapralove uspesne odolava casu, ci lepe - jak cas vic a vic odhaluje jeho kvality.–— Jindra Bartova, Opus Musicum 2 (2012)
Un cenno ora agli interpreti, iniziando dalla pianista Alice Rajnohova, autrice anche delle note presenti sul libretto di accompagnamento del cd, indiscussa protagonista di un'incisione interamente "live". La sua bravura si può apprezzare sia nel concerto iniziale, quando ricopre il ruolo di solista, sia nei brani per pianoforte solo. In entrambi i casi evidenzia un tocco di grande raffinatezza ed una estrema sensibilità, trasmettendo notevoli emozioni. Molto buona anche la prova della Bohuslav Martinu Philharmonic Orchestra, diretta da Tomas Hanus, che si dimostra compagine di sicura affidabilità, contribuendo ad evidenziare il valore di una compositrice che, pur essendo vissuta appena 25 anni, ha lasciato una forte impronta nella musica del secolo scorso.—— Marco del Vaglio, criticlassica.com, February 28, 2012
The latest of these CDs comes from the Czech Radio Service label and brings together four works for piano including the world premiere recording of Kapralova's Piano Concerto. Alice Rajnohova delivers these works with total commitment and does them full justice. The earliest work featured is the Sonata Appassionata, op. 6, dating from 1933, when the composer was 18 years of age. It is a remarkably accomplished piece [...] [and] Rajnohova considers [it] to be "one of the finest piano sonatas composed by any Czech composer in the first half of the 20th century." Her impassioned reading of the piece powefully supports that contention.[...] The [Piano Concerto] assumes a late romantic idiom, suggestive of Rachmaninov [...] [and] was recorded at concert performance in Zlin in November 2010 while the recordings of the solo piano pieces date from June 2011. The piano sound is well captured in both instances.—— Greg Terian, Dvorak Society Newsletter 99 (April 2012)
Vitezslava Kapralova (1915-1940) is considered the most important Czech woman composer of the twentieth century. Almost all of her music has now been recorded and released by various labels that also include Koch Records and Supraphon. This recording is a Czech Radio release. Besides being a bargain introduction to Kapralova's music, the disc is important for the world premiere recording of Kapralova's Piano Concerto of 1935 - a passionate score not to be missed. It is beautifully performed by one of the finest contemporary Czech pianists - Alice Rajnohova. Another world premiere featured on this disc is Three Piano Pieces, from the same period. The remaining works - Sonata Appassionata and Variations sur le Carillon - are already available on the market, having been previously recorded by Boston-based artist Virginia Eskin for Koch Records.—— amazon.com (May 2012)
Un cenno ora agli interpreti, iniziando dalla pianista Alice Rajhohova, che ha curato anche le note illustrative del cd, indiscussa protagonista di una registrazione effettuata interamente "dal vivo." La sua bravura si puo apprezzare sia nel concerto iniziale, quando ricopre il ruolo di sloista, sia nei brani per pianoforte solo. In entrambi i casi evidenzia grande raffinatezza ed una estrema sensibilita, trasmettendo notevoli emozioni. Molto buona anche la prova della Bohuslav Martinu Philharmonic Orchestra, diretta da Tomas Hanus, che si dimostra compagine di sicura affidabilita, contribuendo ad evidenziare il valore di una compositrice che, pur essendo vissuta appena 25 anni, ha lasciato una forte impronta nella musica del secolo scorso.—— Marco del Vaglio, Nuova e Nostre, May 20, 2012
The 2011 compact disc recording featuring four of Vitezslava Kapralova's piano works, one for piano with orchestra and three for solo piano, is an important addition to the growing oeuvre of CDs showcasing Kapralova's compositions. Not only does this recording contain representative works from the span of her career, but it also marks the first recording of her Piano Concerto in D Minor. The entire CD is expertly played by pianist Alice Rajnohova and matched in passion and precision by the Bohuslav Martinu Philharmonic Orchestra under the direction of Tomas Hanus. For admirers and enthusiasts of Vitezslava Kapralova's music, this is a recording not to miss.—— Michelle Latour, Kapralova Society Journal, vol. 10, issue 2 (Fall 2012)
While some of the solo piano pieces on this recording have been recorded superbly by Koch in 2008 (their release has yet to be surpassed both in terms of performance and sound), this CD release of the Czech Radio is worth buying for Kapralova's Concerto in D-Minor, op. 7 (1934-1935) alone. Kapralova graduated with the concerto from the Brno Conservatory in 1935, and while the work is still rooted in the late romantic idiom, its energetic and passionate score is full of fresh and inspiring ideas. The works receives a sensitive performance from both the soloist and the orchestra in front of live audience. Kapralova's majestic Sonata Appassionata is a close relative of the concerto and has been considered one of the finest piano sonatas composed by any of the twentieth-century Czech composers. The piano cycle Three Piano Pieces, op. 9 (1935), composed at the Prague Conservatory, is already written in a much more contemporary idiom. Besides the concerto, this is another world premiere recording featured on the disc. Variations sur le Carillon, op. 16, differ markedly from the composer's earlier piano works and exemplify the maturation of Kapralova's compositional style, with its highly individual harmonic language. Overall, this is a delightful release not to be missed.—— amazon.com (December 2012)
Amazing! Sounding romantic at the opening but quickly developing to more 20th Century astringency. A touch of Hindemith, particularly in the second movement. Most enjoyable, the performance bringing out the best. "Entusiastico" indeed!—— YouTube listener, May 2013