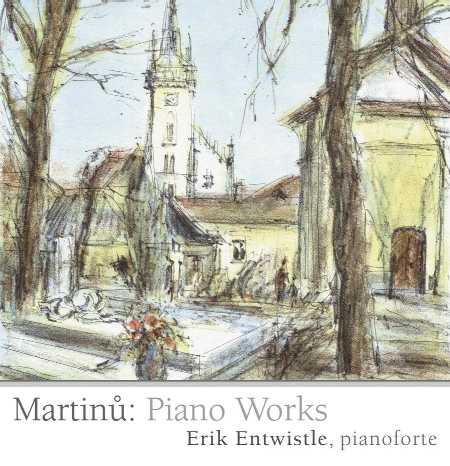 Summit Records, SMT #407. TT:79'25".
This adventurous new release includes a generous selection of nineteen works spanning over thirty years of the Czech composer's career. Ten of the pieces appear on disc for the first time. Included are the haunting Mazurka from 1941, Martinu's first work written on American soil as a refugee from war-torn Europe, and two delightful pieces for the holidays: Vanoce (Christmas) and Merry Christmas 1941 to Hope Castagnola. The most imposing work on the disc is the Sonata No. 1, written in 1954 as a virtuoso vehicle for Rudolf Serkin who performed it in Europe, Carnegie Hall, and at the Marlboro Festival. The connection to Kapralova is apparent in many of the works featured on the disc, as explained in the detailed program notes written by the artist. These include an excerpt from Julietta, the cycle FenÍtre sur le jardin, Mazurka, Dumka No. 3, and Martinu's last piano work, the 1957 Adagio in memory of Kapralova and her father. For more information about the Martinu-Kapralova connection read this article.

Erik Entwistle holds a Ph.D. in musicology from the University of California, Santa Barbara. He studied piano with Andrew Rangell, Sally Pinkas, Seth Carlin and Betty Oberacker. He was on the faculty of the Bard College Longy School of Music and also taught for six years at Harvard University in Cambridge, MA. As pianist and musicologist, Dr. Entwistle has devoted much of his performing and scholarly efforts to the music of Czech composers. He is particularly interested in Bohuslav Martinu, whose music he has presented in concerts and lecture-recitals in Boston, New York City, Los Angeles and Santa Barbara, as well as in Prague and in Martinu's birthplace of Policka. This is his second recording for Summit Records.
ACKNOWLEDGMENTS
The artist is grateful for the financial support of the following organizations and individuals: Thomas W. Entwistle, Jr., Michele Zukovsky, Mr. and Mrs. R.T.P. Metcalf and The Kapralova Society.
For information about Bohuslav Martinu visit his official website.
For information about Erik Entwistle visit his official website.
In all there are 19 different pieces, superbly played, and covering virtually every period of the composers creative life. Scholarly, detailed and highly readable booklet notes by the pianist. --Allan M. Watkins for newsgroups.derkeller.com
Entwistle is an ideal interpreter of Martinu's music...--Marco del Vaglio, Sedicioni
Largely unrecorded and seldom performed, despite their obvious appeal and accessibility, the piano pieces of Bohuslav Martinu have at last found a champion in pianist Erik Entwistle. Entwistle's enthusiasm for the music is apparent in every piece, his performances attractive and expressive.--Blair Sanderson, Allmusic.com
This CD is a treasure...--Patrice Chevy, The Dvorak Society Newsletter
With ten premiere recordings, the disc fills many of the gaps in the recorded repertoire and collects together other works which can otherwise only be heard by investing in a variety of piano recital discs. These are not one-off performances put together for the purposes of a CD release. They have matured over a period of time during which Mr Entwistle has been including them in his regular public recitals. These are finely paced and characterised performances which get to the heart of the works. The presentation of the Summit disc is exemplary. The notes written by the pianist himself provide some fresh insights into this repertoire...--Gregory Terian, Bohuslav Martinu Newsletter
Entwistle, a member of Harvardís Music Faculty, is a Czech music specialist; his ease with the idiom is clear in every note he plays, and his evident enthusiasm for this repertoire results in even the smallest miniature being enlivened from within. There is a huge amount to discover here, and I do encourage you to seek out this delightful disc.--Colin Clarke, MusicWeb.uk.
This album is a gem. It thoughtfully tracks the development of Martinu's piano works - from his early days in Paris to his eventual political exile in America. What emerges is a complex soundscape of Czech identity, expressed through the personal exuberance and anguish of one of its greatest composers. Mr. Entwistle's brilliant playing is well-informed by his considerable study of Martinu. In turn, he delivers a clear and deeply affecting performance.--Jaspar, amazon.com.
Those who know only Martinu's orchestral works should investigate without delay, as they will find much to appeal here. There are not a large number of rival recordings of this repertoire, but those that do exist are of a high order. Entwistle can certainly be recommended alongside these distinguished names for his intelligent and stylish playing.--Francis Knights, International Record Review, July/August 2005
This is a lovely disc which would pair delightfully with Naxosís recent CD of the Martinu songs.--Rob Barnett, MusicWeb.uk
Many delights for your discovery...--Michael Barone, The New Releases, Minnesota Public Radio, November 17, 2005.
This is an absolutely superb CD of Martinu piano music, and it's one of the very best Martinu discs I've bought in recent times.--Richard Hallas, Bohuslav Martinu Discussion Group, December 2005.
A wonderful disc for anyone who loves Martinu and, I would suggest, a triumph for Mr Entwistle as well. Wonderful, idiomatic playing, scholarly, yet entertaining sleeve notes, superb recording sound.--Alan Watkins, Bohuslav Martinu Discussion Group, December 2005.
It is not given to every pianist to get close to the heart of Martinu and Entwistle and Firkusny are two of the precious few to manage it.--Peter Herbert, Bohuslav Martinu Discussion Group, December 2005.
Beautifully played by a pianist who clearly has a passion for this music.--Alan M. Watkins for rec.music.classical.recordings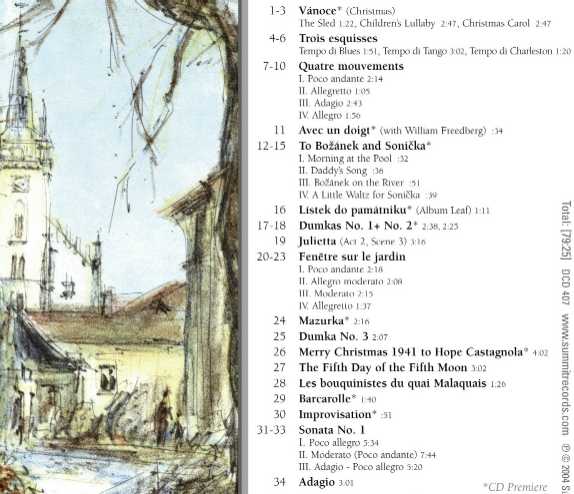 Sample this music