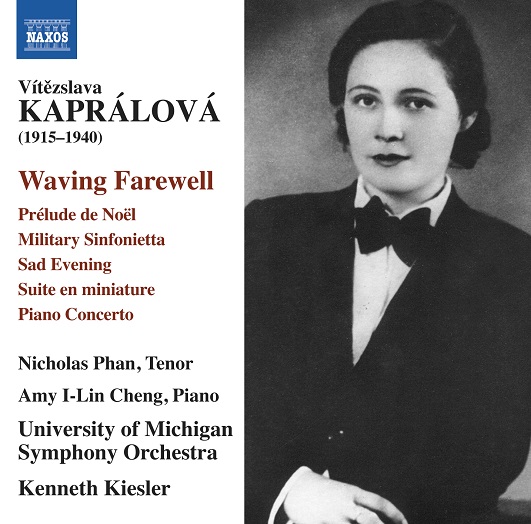 Naxos CD 8.574144 (2021). Available from presto music, amazon.com, amazon.co.uk, and many more outlets.

Performed by Nicholas Phan, Amy I-Lin Cheng, University of Michigan Symphony Orchestra, and Kenneth Kiesler.

Engineer: Jason Corey
Producers: Oriol Sans, Kenneth Kiesler
Booklet text: Timothy Cheek
Booklet design: Nick Staines

Recorded on September 28 and December 13, 2015 and on March 28, 2016 at Hill Auditorium, University of Michigan, Ann Arbor, Michigan, USA. Released: June 25, 2021. Download the CD booklet.

American tenor Nicholas Phan appears on prestigious concert and opera stages across the world. An artist with an incredibly diverse repertoire that ranges from Monteverdi to Nico Muhly, Phan performs regularly with the world's leading orchestras and opera companies. He is also an avid recitalist and a passionate advocate for art song and vocal chamber music. His album, Gods and Monsters, was nominated for the 2017 GRAMMY Award for Best Classical Vocal Solo Album and his growing discography also includes the GRAMMY Award nominated recording of Stravinsky's Pulcinella with Pierre Boulez and the Chicago Symphony Orchestra, Bach's St John Passion with Apollo's Fire, and the world premiere recording of Carter's orchestral song cycle, A Sunbeam's Architecture.

Born in Taiwan, pianist Amy I-Lin Cheng has appeared on concert stages across the world, presenting recitals at venues such as the Weill Recital Hall at Carnegie Hall and National Concert Hall in Taipei. A graduate of the Curtis Institute of Music, Yale School of Music and the New England Conservatory, she is currently a faculty member at the School of Music, Theatre & Dance at the University of Michigan.

Kenneth Kiesler, GRAMMY-Award nominee and winner of the American Prize in Conducting, has led over 100 orchestras across five continents, including the Chicago Symphony Orchestra, the National Symphony at the Kennedy Center, the orchestras of Utah, Detroit, Jerusalem, Queensland, Osaka, São Paolo, the chamber orchestras of Chile and Houston, and the Chamber Orchestra of Paris. Kiesler's teachers have included Carlo Maria Giulini, Pierre Boulez, Erich Leinsdorf, John Nelson, Fiora Contino, Julius Herford and James Wimer. Kenneth Kiesler leads the renowned orchestral conducting programme at the University of Michigan, and is director of the Conductors Retreat at Medomak.

The University of Michigan Symphony Orchestra (UMSO) has been conducted by its music director Kenneth Kiesler since 1995. Its reputation was affirmed in 2005 when it received the GRAMMY Award for Best Classical Album for the premiere recording of William Bolcom's Songs of Innocence and of Experience (Naxos 8.559216-18); in 2011 as recipient of The American Prize in Orchestral Performance; as two-time recipient of the Adventurous Programming Award from the American Society of Composers, Authors, and Publishers (ASCAP); and in 2014 when its premiere recording of Darius Milhaud's L'Orestie d'Eschyle was nominated for a GRAMMY Award (Naxos 8.660349-51). The UMSO has also been at the core of the university's highly competitive graduate programme in orchestral conducting, and tours have included performances in Carnegie Hall and at the festivals of Salzburg and Evian. The orchestra has premiered dozens of new works by contemporary composers, and has several recordings currently available on Naxos, Equilibrium, Pierian and Centaur.

Please note that the music recorded on this compact disc is in print. Click here for the complete discography of Kapralova's music.
From reviews:
Kapralova was a talent of rare eloquence and self-possession, too good to remain lost in the mists of time. / Norman Lebrecht
Performances are full of zest and passion... / George Henderson
The music here is superb. Well worth investigating. / larkreviews.co.uk
A wonderful demonstration what an absolutely staggering talent Kapralova was! / Nigel Simeone, BBC Record Review
Kapralova's writing is buoyant, expert and utterly remarkable, and the performance by the University of Michigan Symphony under Kenneth Kiesler is enthusiastic. / Colin Clarke, Classical Explorer
Accessible yet sophisticated. / Jenny Camilleri, deVolkskrant
Nicholas Phan has a suitably liquid tenor voice for his two solos, and the conductor, Kenneth Kiesler, extracts totally committed performances in a high impact recording. Highly recommended. / David Denton
Discovery, for me, though, is 'Sbohem a satecek' by the short-lived and clearly very talented Vitezslava Kapralova (1915-40): Nicholas Phan gives a wonderfully impassioned performance that demands further exploration of the composer. / James Joly, the Gramophone's Listening Room
All the music here speaks of a bold, original voice that was already considerably developed: the Military Sinfonietta blends Stravinsky-ish spikiness with a certain cinematic quality that put me in mind of Korngold, whilst the orchestral songs sound like Berg with a twist. / Katherine Cooper, Presto Editor's Choice, June 2021
Kapralova's music bristles with youthful energy, dazzling with brilliant orchestral colors. But there's substance here, too. These are well-crafted works that one might expect from a composer in a mid or even later career. / Ralph Graves, Charlottesville Classical
The orchestral songs are strikingly attractive. / Michel Dutrieue, Stretto Magazine
Handsomely recorded, Kenneth Kiesler conducts the University of Michigan Symphony Orchestra in convincing, invigorating and satisfying accounts which, I'm sure, will win these compelling scores many friends. A deep love and commitment to this composer conveys itself throughout (the disc). I urge you to explore. / Stephen Greenbank, MusicWeb International
Nicholas Phan sings with an infectious ardor, and Amy I-Lin Cheng knocks off the Piano Concerto with aplomb. Through it all, conductor Kenneth Kiesler shows commitment to the cause. Even with erratic engineering this [CD] is a top priority. / Peter J. Rabinowitz, Fanfare
[The orchestra] players' technical skills as well as their interplay under the direction of Kenneth Kiesler, who also works masterfully with orchestral colors, are superior. Nicholas Phan has a very pleasing, smooth, and supple voice. In both Smutny vecer and Sbohem a satecek his performances are mesmerizing. The star of the Piano Concerto is the Taiwanese pianist Amy I-Lin Cheng, [who] reigns supreme with a brilliant technique — she plays the solo part of Kapralova's piano concerto with an emotion-packed and very inspired approach. Veroslav Nemec, Harmonie