ODALINE DE LA MARTINEZ
Text and photo © Lontano Trust Ltd.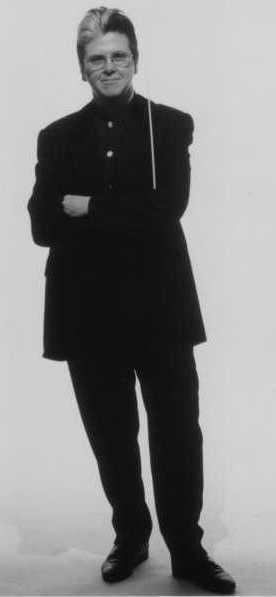 Design and hosting © The Kapralova Society, 2001
One of the liveliest and most enterprising musical personalities on the British contemporary scene, Cuban-born, American-raised Odaline de la Martinez pursues a busy international career performing a great variety of repertoire ranging from Mozart symphonies to the latest of contemporary music.
Brought up and educated in the USA, she settled in London and studied at the Royal Academy of Music. It is over a decade since Odaline de la Martinez became the first woman to conduct a complete BBC Promenade concert. Since then she has been invited back very regularly and in the summer of 1994 she conducted a rare performance of The Wreckers by Dame Ethel Smyth, later released on CD by Conifer Records.
Martinez is founder and music director of the contemporary ensemble Lontano, of the London Chamber Symphony and, in 1990, the European Women's Orchestra. As well as frequent appearances as guest conductor with the leading orchestras throughout Great Britain, including all the BBC orchestras, she has conducted amongst others, the San Diego and New Zealand Symphony Orchestras, the Australian Youth Orchestra, the Natal Philharmonic, the Aarhus Symphony and the Vancouver Chamber Orchestra. She is also known as a broadcaster for BBC Radio and Television.
In 1992 she founded her own record label LORELT that concentrates on areas neglected by many recording companies. Her first opera, Sister Aimée, was premièred in the United States in 1984 and she is currently working on another, with two books, one on women's musical careers, the other on Latin-American classical music. In 1988 she was awarded the Villa-Lobos medal by the Brazilian government in recognition of her outstanding work on promoting and conducting his music. In 1989 she was co-Director of VIVA - a festival of Latin-American music at London's South Bank Centre and was Artistic Director at the 1994 Cardiff Festival.
Martinez continues a busy world-wide conducting schedule. In 1995 she visited Colombia, Canada and New Zealand and later returned to take up a residency as special guest of the New Zealand Arts Council. In 1996 she conducted a series of concerts with the Sinfónica del Valle in Colombia, the Ensemble 2e2m in Paris, an Icelandic opera by Karólína Eiríksdóttir with Lontano at the Riverside Studios in London as part of the Nordic Season, visited Argentina as composer/conductor, returning to London for a Steve Reich 60th-birthday celebration concert presented by BBC Radio 3. In 1998 she was appointed Principal Guest conductor of the Mexico City based Camerata of the Americas.
Recent engagements have included concerts in the United States, Denmark, Mexico, Portugal, Brazil, South Africa and Australia, and performances throughout the United Kingdom, including a BBC Prom, a two-month tour of The Magic Flute, and several commercial recordings, together with concerts and broadcasts. Projects in 2006 included a Festival of American Music in London, a visit to Argentina with Lontano as resident ensemble, Lontano's 30th Anniversary Series in London, and a two-week tour of Mexico with the BBC Singers and the Orquesta Filarmonica de UNAM from Mexico City. In 2007-08, besides her concert and recording work with Lontano, Martinez will make three visits to Portugal as well as a visit to Ireland. Recent and to be released recordings include two CDs featuring the choral and orchestral music of Elizabeth Maconchy, as a celebration of her 100th Anniversary (the first with the BBC Singers and the second with the BBC Scottish Symphony Orchestra); and the music by Peter Child and Dorothy Ker.
DISCOGRAPHY