From Jezek's correspondence:
Moji drazi spolupristehovalci.... Vcera jsem zahajil cinnost sbormistra and hned na poprve mne tam prislo asi 20 lidi. Tak doufam, ze kdyz v tom sboru nebude kvalita, tak ze to kvantita nahradi. Jinak uz opravdu nic nevim. Kafe si varim a obcas ma i slusnou uroven. Jeden vecir jsem si take dokonce vohral parky. Tak myslim, ze budu na konec i trochu praktickej...
From a letter to Voskovec and Werich from March 21, 1940 (published by New Yorksky Dennik in 1942).
Dokoncil jsem jeden svuj dalsi opus a uz jsem jej prehral Rudolfu Firkusnemu, kteremu se jak se mne zda, velmi mnoho libil. Je to klavirni sonata. Delal jsem ji ponekud dlouho na to, jak ja jsem jindy pred tim komponoval daleko rychleji. Ale zda se mne, ze je to v celku velmi slusne dilo, ktere me muze i dobre representovati. Po dokonceni teto sonaty mam nyni daleko vetsi chut do dalsi prace, ponevadz si zacinam opet trochu rozumeti a myslim, ze nejsem tak spatnym skladatelem, jak jsem se v poslednim case tolik domnival ... | I finished another of my works and have already played it for Rudolf Firkusny who seemed to like it a lot. It is a piano sonata. It took me much longer than it usually would in the past but I think it's a solid work which could represent me well. After finishing this sonata I now have a much greater appetite for work, also because I am beginning to understand myself a bit again and think that perhaps I am not such a bad composer after all, as I had begun to believe...
From a letter to Zdena Werichova from March 14, 1941 (published by New Yorksky Dennik in 1942).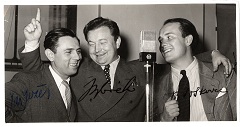 ...jak jsem vam posledne rikal, docetl jsem se v Times, ze na Mezinarodnim hudebnim festivalu, poradanem v New Yorku tento mesic, je hlaseno provedeni take moji skladby. Tak uz se se mnou tesiti z toho nemusite, protoze moje vec tam provedena nebude. Duvody presne nevim, ale postupne si celou tuto vec, pokud je to mozne, vysetruji. Jeden to totiz svadi na druheho a zadny se k tomu priznati nechce... Jak je tedy az doposud vidno, mne tady zatim taky stesti nekvete... Ale to je jedno. Zacnu tedy znovu a uvidim pozdeji. Zatim si pokracuji v komposici dal, a doufam, ze jeste na tomto svete taky neco napisu... | ... remember I told you I read in the Times that the International Music Festival, which is taking place in New York this month, would also play one of my compositions. Well, we don't need to look forward to this anymore, because my piece will not be played. I don't know the exact reasons but I am looking into it, at least as much as I can, since everyone is blaming somebody else and no one wants to own up to it... It is pretty obvious that until now I haven't had much luck here either but I don't care. I will start all over again and see later. In the meantime I'll keep composing and hope that I will be able to write something while I am still part of this world...
Letter to Jiri Voskovec from May 7, 1941 (published by New Yorksky Dennik in 1942).
Jinak si stale jeste pilne komponuju, ackoliv nevim pro koho a bude-li to mit nejakou cenu a vubec...
Letter to Adolf Hoffmeister from May 15, 1941 [courtesy of Jazz Section].
A nyni vam to trochu zanalysuji, abyste vedeli, o co v te melodii vlastne jde. Tedy zacatek je verny citat z Beethovenovy pate symfonie, ktery i v moji melodii je velmi revolucni. Pak nasleduje refrain, ktery je psan v dur a je znacne veselejsi a slavnostnejsi. Pocatecni tony refrainu jsou opet v rytmu Morseova V. Pak prijde nekolik taktu veselejsich a rekl bych, uprimnejsich a prostsich. Tyto tony zase pripominaji Smetanovy tony z Blanika, kde je podobny pochod a ma znazornovat prichod blanickych rytiru, kteri se hotovi k boji. Pak nasleduje opakovani a ku konci se jeste ozvou rytmy Morseova V. ...Zitra mozna opet odjedu na nekolik dni ven a tak budu mit bajecny klid a snad budou v tom pripade i nejake ty muzikalni napady. Je to nyni skoda, ze jsme tolik si vzdaleni a nemuzeme se ve vsem domluvit ustne, jako tomu bejvalo za starejch dobrejch casu.
Letter to Voskovec and Werich from August 6, 1941 (published by New Yorksky Dennik in 1942).
Co se tyce mne, pri me skromnosti, jsem docela rad, ze mohu byti stale v New Yorku, ponevadz toto je vlastne mesto stale mych snu a zvlast kdyz tady v celku se drzim a jsem i nekdy docela spokojen. Snad se i tady behem casu postavim docela na nohy a nebudu musit nikoho svou existenci otravovati. V celku se muj stav uz za letosni rok v mnohem zlepsil a ja verim, ze to bude pristim rokem jeste lepsi, alespon uz k tomu delam ruzne nabehy. Mne takovy muj skromny zivot postaci a take mne i uspokoji...
Letter to Jiri Voskovec dated in New York from May 23, 1941 (published by New Yorksky Dennik in 1942).
Jaroslav Jezek
[b.25.9.1906 Prague, d.1.1.1942 New York]



Jaroslav Jezek studied composition at the Prague Conservatory under Josef Suk, highly cultivated composer who himself carried subjective lyricism and coloristic impressionism into the most subtle and bold modern symphonic forms but left his pupils complete freedom in their own expression or choice of direction. Jezek, who was a sickly boy and almost blind since his birth, lived from his youth completely in the world of musical imagination. He surmounted all the difficulties that his physique had put in the way of his general and musical education. He entered the Prague Conservatory at a time when the youth of the Czechoslovak republic experienced a new free life - and with it the invasion of modern dances and American jazz music. Jezek slowly elaborated a very deliberate plan to acclimatize the special rhythmic and instrumental features of jazz music in the very different world of Czech melodiousness. The Concerto for piano and orchestra, his graduation piece when he left the Conservatory in 1927, is the first proof of the seriousness of his ambition. At that time it excited the enthusiasm of the young musicians, but horrified the conservatives.

Jezek was soon fortunate in meeting two young men who succeeded in using his skill and talent in their own theatre, which performed extremely original and lively revues filled with topical political satire. Jan Werich and Jiri Voskovec had founded in Prague the "Liberated Theatre", which for a period of more than ten years became the stage where, in the most amusing fashion, the absurdities of our time were ridiculed and exposed in grotesque, pseudo-historical, or purely fantastic plays. These two intellectual clowns attacked, in witty dialogues, pedantic wisdom, moral hypocrisy, the inanities of totalitarianism, and the mistakes of democracy. All their improvisations were filled with the free spirit of the young democratic republic. Jezek found them innately congenial and thus became, within a short time, something like Offenbach of the Czechoslovak republic.

During the decade 1928-38, Jezek composed, for twenty revues and plays performed on this stage, numerous songs, dances, marches, and whole scenes which not only were hummed and sung by Prague youth of all classes but were highly appreciated by musical connoisseurs. There are some derivative pieces of lighter weight among them; but the best among them are perfect in their way, both artistically and technically. Even Stravinsky and Kurt Weill spoke of these compositions with the highest respect. Though Jezek actually condemned the opera as an obsolete art from, several of the scenes he composed for these revues are not too removed from the style which Busoni introduced to the stage in his still insufficiently appreciated comic opera Arlecchino.

But alongside these works, which introduced the turns of Czech melody into the rhythms of modern dances - the tangos and foxes, charlestons and rhumbas, waltzes and blues - there ran another stream of Jezek's compositions for orchestra and chamber groups, in which the elements of jazz music, predominant in the early compositions, slowly lost their original blatancy and combined with the bold polyrhytmics of the instrumental voices. His Fantasy for piano and Violin Concerto (both written in 1930) and especially his small piano pieces and the Violin Sonata (1933), which was performed at the festival of the International Society for Contemporary Music in Florence in 1935, show the attempts Jezek made to assimilate jazz rhythms into the structural movement of voices, as well as his gradual advance from atonal clusters of chords to clearer conceptions of planned modulation. This gradual simplification of his expression is most obvious in his last composition written in Prague during the September mobilization in 1938 (Rhapsody for piano) and in the compositions written in New York in 1939-41, especially Toccata, Piano Sonata, and the first movement of an unfinished string quartet. These are pieces full of lively rhythms, clearly planned, restrained in the use of occasional harmonic boldness, intentionally less provocative than his earlier work, full of distant echoes of Czech rhythms and melodies. It is a pity that these beginnings of a new and individual style were interrupted so prematurely.

Jan Löwenbach. "Czechoslovak Composers and Musicians in America." Musical Quarterly, 3 (1943): 324-326.



List of Works

Piano Music
Suite for quarter-tone piano [1927]
Sonatina [1928] Petite Suite [1928]
Capriccio [1932]
Etude [1933]
Bagatelles [1933]
Rhapsody [1938]
Toccata [1939]
Grand Valse Brillante [1939]
Piano Sonata [1941]

Chamber Music
Serenade for Wind Quartet [1929]
Wind Quintet [1931]
String Quartet No. 1 [1932]
Sonata for Violin and Piano [1933]
Duo for Two Violins [1934]
String Quartet No. 2 [1941]


Orchestral Music
Concerto for Piano and Orchestra [1927]
Nerves (ballet) [1928]
Fantasia for Piano and Orchestra [1930]
Concerto for Violin and Wood-Wind Instruments [1930]
Symphonic Poem [1936]
Incidental music (12 theatre plays) [1927-1937]


Vocal Music
Little Songs. Cycle of 5 songs for voice and piano. [1927]
"By Express Train," for voice and piano [1927]
"Diary", for voice and piano [1927]
"Jolly Pierrot", for voice and quartet [1929]
"Lamento e Trionfo", for voice and piano [1929]
Four Songs, for higher voice and piano [1933]
Two Songs on Lyrics by Puskin, for voice and guitar [1936]
"Good Night", for voice and piano [1937]
"Victorious V" [1941]
"No", for women's choir [1941]


Stage Music
Cocteau / Svatebcane na Eifelce [1927]
Goll / Pojisteni proti sebevrazde [1927]
Chesterton / Kamarad Ctvrtek [1927]
Holberg / Jeppe s kopecku [1927]
Achard / Malborough do boje tahne [1929]
Ford / Giovanni a Anabella [1930]
Hoffmeister / Zpivajici Benatky
Vancura / Jezero Ukereve [1936]
Shakespeare / Timon athensky [1936]
Hsiung / Pani Studanka [1937]
Molière / Don Juan [1937]


Music for "Liberated Theatre"
Premiera Skafandr [1928]
Liceni se odrocuje [1929]
Fata Morgana [1929]
Ostrov Dynamit [1930]
Sever proti jihu [1930]
Don Juan & Comp. [1931]
Golem [1931]
Caesar [1932]
Robin Zbojnik [1932]
Svet za mrizemi [1933]
Osel a stin [1933]
Slameny klobouk [1934]
Kat a blazen [1934]
Vzdy s usmevem [1935]
Panoptikum [1935]
Balada z hadru [1935]
Nebe na zemi [1936]
Rub a lic [1936]
Tezka Barbora [1937]
Pest na oko [1938]


Film Music
Ze soboty na nedeli [1931]
Pudr a benzin [1931]
U nas v Kocourkove [1932]
Penize nebo zivot [1932]
Hej rup [1934]
Vsudybylkova dobrodruzstvi [1935]
Svet patri nam [1937]




Published Scores (classical music)

Sonatina for Piano [Orbis, 1949]
Petite Suite [HMUB, 1937]
Fantasia for Piano and Orchestra [Panton]
Concerto for Violin and Wood-Wind Instruments [Panton]
Etude, for piano [Orbis, 1949]
Bagatelles, for piano [HMUB, 1933]
Sonata for Violin and Piano [Orbis, 1951]
Duo for Two Violins [Praha: HMUB, 1949]
Symphonic Poem [Panton]
Rhapsody, for piano [Orbis, 1949]
Toccata, for piano [Orbis, 1949; Supraphon, 1968]
Victorious "V" [HMUB, 1948]
Piano Sonata [HMUB, 1949]


Autographs and Manuscripts

The National Museum
Czech Museum of Music
Department of Music History
Karmelitska ulice 2
118 00 Praha 1
Czech Republic


Selected Discography

Jaroslav Jezek (1906-1942). Jaroslav Novotny, piano. [Sonatina, Petite Suite, Bagatelles, Rhapsody, Toccata, Sonata (1941).] Panton 71 0428-2.
Jaroslav Jezek (1906-1942). Antonin Novak, Vojtech Jouza, Karel Rehak, Jan Stros, Jan Vrana, Miloslav Klement, Jaroslav Marek, Petr Cap, Lumir Vanek. [Duo for Two Violins, Sonata for Violin and Piano, String Quartet No. 1, Serenade for Wind Quartet.] Panton 71 0429-2.
Jaroslav Jezek (1906-1942). Jan Novotny, Musici de Praga, Prague Radio Orchestra, Brno Philharmonic, Kühn Choir. [Nerves (ballet), Fantasia for Piano and Orchestra, Concerto for Piano and Orchestra, Symphonic Poem.] Panton 71 0430-2.


Selected Bibliography

Beckerman, Michael. "The Dark Blue Exile of Jaroslav Jezek." Music & Politics 2 (Summer 2008).
Cinger, Frantisek. Stastne blues aneb z deniku Jaroslava Jezka. Praha: BVD, 2006.
Hnatova, Katerina. "Jaroslav Jezek: Co-creator of the Czech Inter-War Modern Movement." Czech Music Quarterly 1 (2007).
Holzknecht, Vaclav. Jaroslav Jezek. Praha: Horizont, 1982.
Holzknecht, Vaclav. Jaroslav Jezek & Osvobozene divadlo. Praha: SNKLHU, 1957.
Jaroslav Jezek. Collection of texts and correspondence. New York: New Yorksky Denik, 1942.
Jaroslav Jezek. Dopisy z podzimu 1938. Praha: Vaclav Petr, 1948.
Jezek, Jaroslav. Stale se mi zda, jako kdyz Te hledam. Dopisy Mile Ledererove. Brno: kniznice Opus Musicum, 2006.
Löwenbach, Jan. "Czechoslovak Composers and Musicians in America." Musical Quarterly, 3 (1943): 324-326.
Löwenbach, Jan. "Jaroslav Jezek. Pokus o vyklad skladatelskeho typu." In: Jaroslav Jezek. New York: New Yorksky Denik, 1942. Pp. 9-25.
Mihule, Jaroslav. "Pripad Sonaty pro klavir od Jaroslava Jezka." Harmonie 8 (2009): 22-25 and Harmonie 9 (2009): 34-37.
Mikota, Vaclav (Ed.). Na pamet Jaroslava Jezka. Praha: Mikota, 1946.
Sobotka, Mojmir. "Jezek, Jaroslav," Cesky hudebni slovnik osob a instituci, February 2007 http://www.musicologica.cz/slovnik/hesla.php?op=heslo&hid=3514
Trojanova, Jaromira. Jaroslav Jezek. Soupis dila z fondu SVK. With an introduction by Olga Jiranova. Brno: SVK, 1981.




Listen

Listen to Jaroslav Jezek's classical music: